Coffee Gator Coffee Storage Canister
|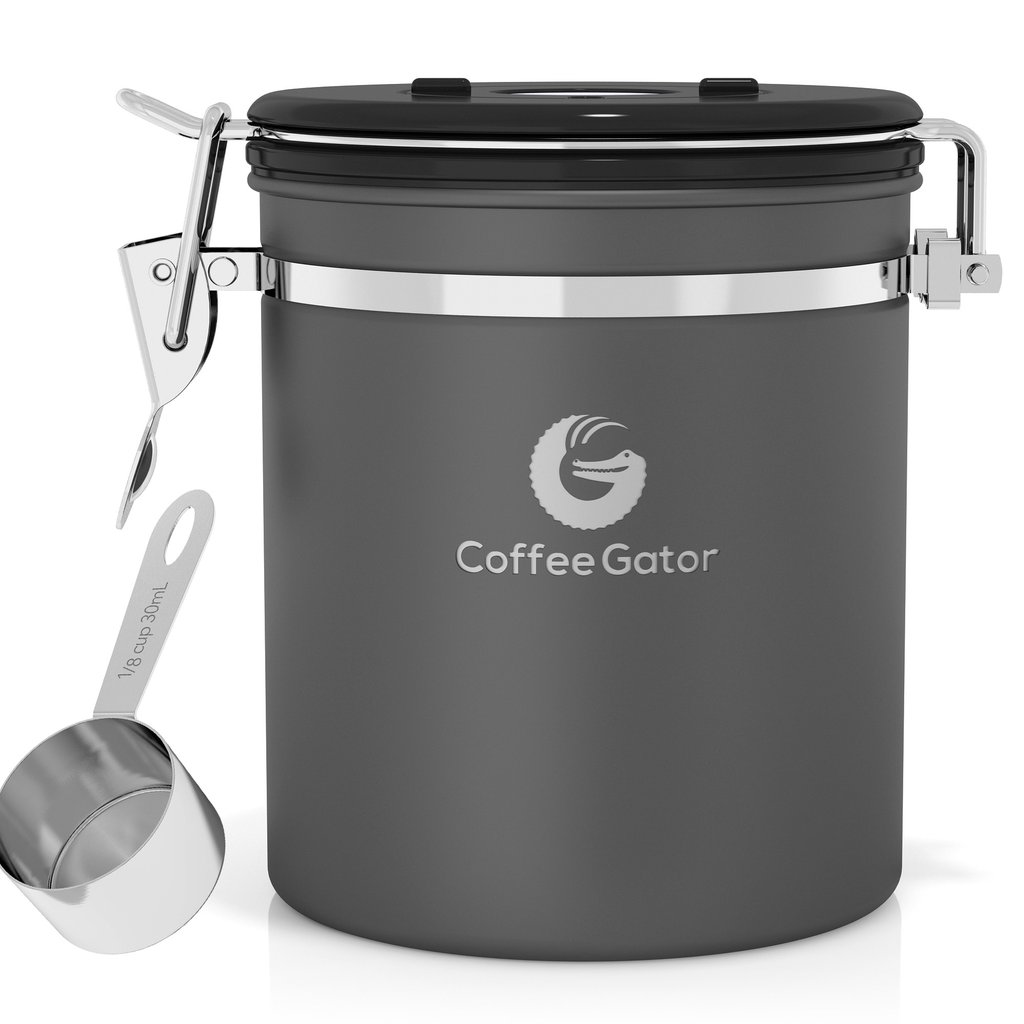 For all of the coffee lovers out there, there are some pretty cool coffee accessories that you should add to your kitchen. The other day, we stumbled across the Coffee Gator Coffee Storage Canister and it's something we just had to tell people about because we personally liked everything about it. If you're curious as to what it is and what it does, continue reading so you can see what's so unique …
About the Canister
To give you an idea of the size of the canister and how much coffee/beans it's capable of holding, here's the product specifications:
•Capacity: 1.3l/ 44oz
•Whole Beans: Holds up to 455g/16oz
•Ground Coffee: Holds up to 377g/13.3oz
•Height: 15.2cm/6"
As you see, it can hold quite a bit of ground coffee and beans.
Fresh Coffee
How many of you despise that stale bag of coffee? In no time at all after opening it up, it seems to lose it's quality. That is why we like storing our coffee in a storage canister, but not just any storage canister – it has to be something special, like the Coffee Gator Storage Canister. You see, with this storage canister, you're never going to have to worry about your coffee loosing it's fresh state any more. You pay for quality whole beans and ground coffee, so you might as well store them in something that is guaranteed to keep them fresh for a long period of time. On the coffee canister, there's a freshness valve in order to ensure the coffee will stay safe. You see, naturally, coffee beans naturally release CO2 and if that isn't allowed to escape, the coffee will go bad. The vent is there in order to release the CO2, while preventing oxygen from entering.
Track the Freshness and Save Money
On the lid, there's a calendar date tracking wheel that will help you keep up with the expiry dates. This way, you will save money from having to replace those stale grounds and beans and have a nice, fresh cup of coffee every time.
Conclusion
Many other reviewers are pleased with how long this canister makes the coffee last and it really does seem to do a great job at preserving the flavor of coffee for a longer period of time. Surely, if you buy this coffee accessory to store your coffee in, you're going to be pleased with the design and quality and to top it all off, it comes to you at an affordable price. The one downside we found people talking about with this canister would be the fact that it doesn't hold one pound of ground coffee (only 13.3 oz) however, we personally don't feel like this is a problem and is no big deal.
All in all, if you're looking for a nice looking canister that is guaranteed to keep your coffee fresh for a longer period of time, we would highly recommend the Gator Coffee storage canister to you. This is something you're not going to regret …