Hamilton Beach 49981 Single Serve Scoop Coffee Maker Review
|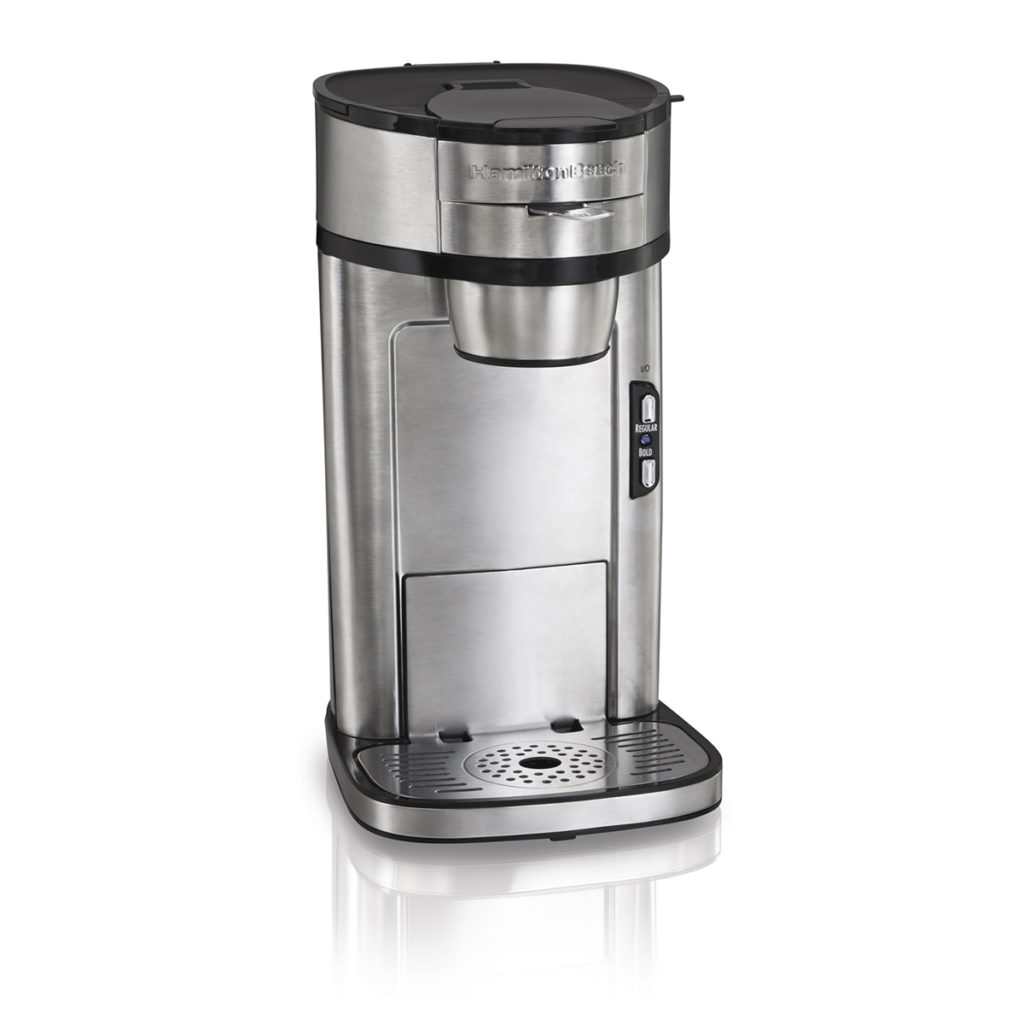 If you're the only one in your household that enjoys coffee, then there's no sense in making a whole pot of coffee …unless you're going to drink that much throughout your day. Then, the other option would be to go to the local coffee shop, but if you add up the expenses for this throughout the month, it's really going to add up. When all else fails, there's single-serve coffee makers that you can buy. While there are many great ones currently on the market, right now, the one we're going to talk about would be the Hamilton bean 49981 Single Serve Scoop Coffee Maker.
Appropriately Measure Your Coffee
When it comes to adding coffee, if you simply guess how much coffee you should add, you're either going to be dealing with weak or coffee that is too strong. The scoop filter will help take all of the guess work out of brewing that perfect cup of coffee. On the filter, you'll find two measuring lines to help you determine the exact serving amounts required.
Adjusting the Cup Size
There are some days when you will want a small cup of coffee, while other days, you'll want a large cup. Adjusting the cup size isn't hard to do at all. If you're using a travel mug, simply pull the cup rest against the coffee maker down and put the mug on top of the drip tray.
Boldness Levels
With this coffee maker, you will get to choose the boldness levels. For a quick, basic coffee drip, choose the "regular" setting. For a stronger flavor, go for the "Bold" setting. Remember though – the finer the grind is, the longer it is going to take to brew the coffee. When you choose bolder coffee, the water will pass through at a rate that is slower as more contact time is required, but you will have better flavor extraction, which means the flavor of the coffee will be much stronger and better tasting. So, sometimes, waiting that extra minute or so will really pay off.
Allows Different Grind Types
This coffeemaker doesn't require you to use the pre-packaged K-Cup packs, which can be a good thing because it can get a bit on the expensive side. Instead, with this coffee maker, you have a mesh scoop filler that will give you your choice of any flavor – so choose caramel, vanilla, hazelnut or whatever you like. You can also choose any brand of coffee you like and any strength (Bold or Regular). With this brewer, you're certainly not going to be limited to the type of coffee you drink, so if you're the type that likes to switch things up from time to time, this machine would be a great choice.
Brewing
This machine is capable of brewing up to 14 ounces. You can brew the coffee straight into your coffee mug or travel cup with no problems at all.
Conclusion
All in all, if you're looking for the type of coffee maker you can use to make a single cup of coffee for whatever reason, the Hamilton Beach 49981 single serve scoop coffee maker would be a great option for you.